Our thermal vacuum testing facility has been revitalized
The new vacuum test facilities have renewed focus on testing of equipment for the space industry.
26 November 2019

By Hans Fhær Larsen and Susanne Otto
For many years, Denmark has had a strong group of companies supplying equipment for satellites, space stations, etc. In recent years, this group has been expanded to include companies, such as GomSpace and Space Inventor, that develop and manufacture cube or nanosatellites.

These small, very cheap satellites are gaining ground everywhere. The data power is huge, and only the imagination sets limits for the usage. They are built of 10 x 10 cm modules and are so inexpensive that they become available in the commercial market.

Severe requirements for satellites
Despite the cheap price, there are severe requirements for the satellites ability to operate in the extremely harsh environment that characterises space.
FORCE Technology has many years of experience in testing equipment for space, such as thermal vacuum, vibration, and EMC testing. Most recently, in connection with our Performance Contract project "Exploiting space for increased growth", we have expanded our competencies within lifetime estimation of modules used in nanosatellites for space. Here, there is a desire to extend the life span from 2-3 years to 5 years. In connection with this work, a need arised for establishing facilities for robustness tests, especially a need for increasing the thermal vacuum chamber capacity in Denmark.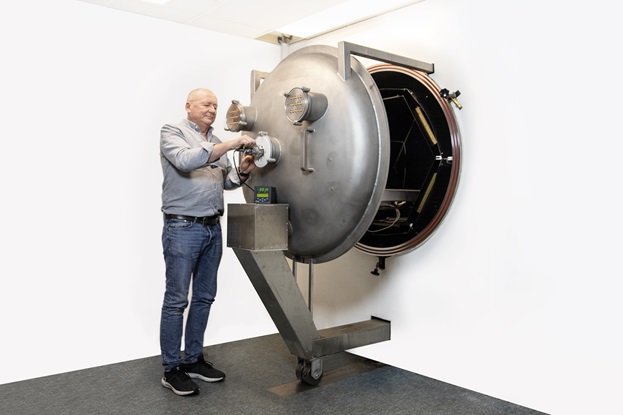 Our vacuum test facilities have been upgraded
Consequently, we have renovated our existing thermal vacuum test facilities. The cooling system has been updated with the latest environmentally friendly refrigerants, and Polycold, which ensures that we reach 1.3 ⸱ 10-4 Pa, has been completely replaced.

The turbomolecular pumps instrumentation has been updated. In addition, other improvements have been made so that the thermal vacuum chamber now appears ready for customer assignments.

The temperature range of the base plate and shields, which can be controlled independently, is -50°C to +85°C. The final pressure is 1.3 ⸱ 10-4 Pa.

Products up to 700 mm (length) x 550 mm (width) x 550 mm (height) and weighing up to 20 kg can immediately be tested.

Come by and see the vacuum chamber at FORCE Technology, Venlighedsvej 4, 2970 Hørsholm, Denmark.