The hydrogen technology testing centre benefits businesses undergoing green transformation
The testing centre gives all hydrogen technology actors easy access to consultancy and testing facilities. It is the product of a collaboration between DGC and FORCE Technology.
Easy access to knowledge and testing facilities strengthens the green transformation
The hydrogen technology testing centre offers testing and analysis to all green transformation actors involved in the production, transportation, and use of hydrogen for all hydrogen technologies. The testing centre is available to provide assistance with everything from boilers and fuel cells to large, sector-coupled plants from kW to GW scale.
The purpose of the testing centre is to centralise knowledge and capabilities so that hydrogen technology actors can easily access a variety of facilities and get the assistance and consultancy they need in the hydrogen field, which is essential to the green transformation.
The hydrogen technology testing centre will also participate in standardisation work, as power-to-X is not yet a mature technology.
A partnership between two major technological service companies
The hydrogen technology testing centre is the product of a collaboration between DGC, the Danish Gas Technology Centre, and FORCE Technology. The testing centre has facilities at both DGC's Hørsholm location and FORCE Technology's Brøndby location, allowing hydrogen technology actors to make use of existing testing facilities in these locations. Mobile testing facilities are also available for deployment as needed.
The hydrogen technology testing centre is supported by the Green Labs DK programme, part of the Danish Energy Agency's Energy Technology Development and Demonstration Programme (EUDP). 
What we can do for you
Testing materials and components
Hydrogen compatibility and sensitivity
Hydrogen permeability
Fracture mechanics testing
Large-scale component testing
Emission measurements for new fuels
Hydrogen quality testing
Energy system efficiency and safety
Metrological services
Hydrogen meter certification and calibration
Hydrogen filling station certification
On-site inspections, land and offshore
Modelling and calculation
Hydrogen flow simulation
Strength and fracture mechanics modelling for hydrogen
Digital twins
Gas diffusion through polymers and steel.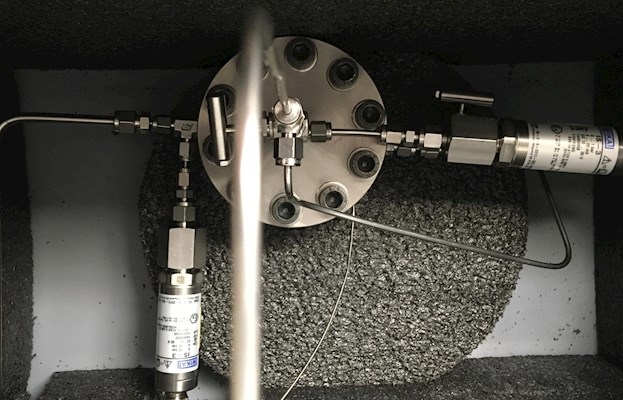 Case
The Danish gas pipelines are suited for hydrogen
Steel and plastic pipes for gas transmission are not affected by 10 years of hydrogen exposure.